Should I Buy a Fiberglass Pool?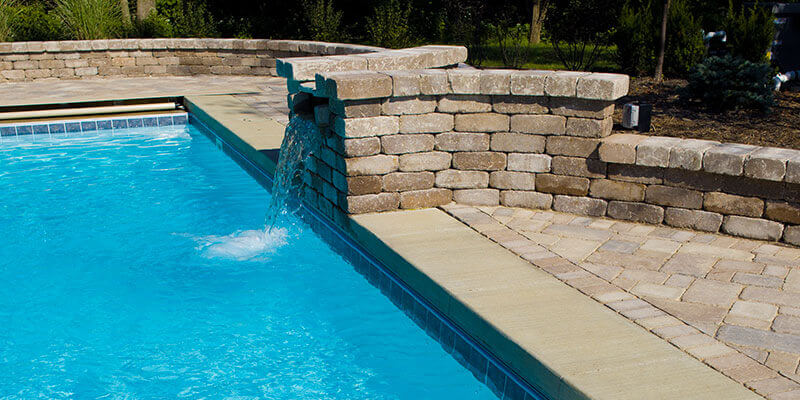 Over the years, fiberglass pools have been gaining in popularity with pool owners. They're generally easier to install, more durable, and require less maintenance than their concrete and vinyl counterparts. But they didn't always have such a good reputation. When fiberglass pools were first introduced, pool owners complained that they looked cheap and offered limited size, shape and color options. But thanks to innovations in the pool industry, fiberglass pools can now rival the aesthetics of concrete pools. We take a look at the benefits fiberglass pools can provide and why they make a great choice for homeowners.
The Evolution of Fiberglass Pools
In the past, gel coat, a finishing "paint" designed to protect fiberglass surfaces, discolored over time due to UV exposure and oxidation. But advances in the marine and swimming pool industries have led to improved gel coat technology, making the material much more resistant to chemicals and the elements.
Also, pool manufacturers have successfully adapted materials from the kitchen and bath industry to create an acrylic solid surface finish for fiberglass pools. With a chemical makeup practically identical to that of a home solid surface countertop, the finish is engineered for harsher environments and therefore much more resistant to chemical exposure. Plus, as opposed to gel coat, solid surface finishes offer visual texture.
Another issue that might have discouraged homeowners from purchasing fiberglass pools in the past is that they were difficult to customize. In recent years, however, the industry has been integrating complementary components, such as spas and tanning ledges. These days, inground fiberglass pools are available in just about any shape, size or color.
The Benefits of Fiberglass Pools
The following benefits are some of the reasons certain pool owners prefer fiberglass pools.
The material is easier on the skin. If you look outside of the pool industry, whenever human skin and water come together, the material of choice is almost always fiberglass.
Installation is easy and fast: To install any inground pool, you need to bring in large equipment, excavate, and place walls, forming or other structural materials. Although you still need to excavate for placement of a fiberglass pool, your yard will be put back together sooner and cleaner. And because fiberglass shells are built offsite, you can put water in them the day they're installed. This makes the process much quicker and leaves less room for error.
Because fiberglass is a non-reactive surface, chemical imbalances are less likely to cause problems. Reactive surfaces can experience discoloration or erosion after prolonged exposure to chemically unbalanced water.
Fiberglass Pools at San Juan Pools
At San Juan Pools and Spas, we offer a huge selection of fiberglass pools and can help you design and build your dream backyard. There are all kinds of ways to customize your pool to make it uniquely yours and we can do it all. Contact us today to learn more about fiberglass pools.
Blog adapted from Clear Link Resource Center, a resource for LONZA pool supply retailers.
About San Juan Pools & Spas
San Juan Pools & Spas is the premier swimming pool and hot tub dealer and pool supply store in Pekin, Illinois, serving the entire Peoria area since 1958. Our company offers everything you need to create the perfect backyard retreat, including inground pools, above ground pools, hot tubs and swim spas.
We offer a number of other fine home products in our extensive showroom, including gazebos, massage chairs and a full line of pool and spa chemicals and accessories. We are an authorized dealer of San Juan Fiberglass Pools, as well as Splash SuperPool above ground pools, Hot Spring Spas, Caldera Spas, and Freeflow Spas. We offer excellent on-the-spot financing and also take trade-ins on hot tubs. We are excited to help make your backyard dreams come true.
San Juan Pools & Spas has an unrivaled retail center and showroom dedicated to quality products and superior customer satisfaction. Contact us for more information by calling 309-692-0292 or visiting our website at sanjuanpekin.com.